The Roundhead Association is part of The English Civil War Society dedicated to the re-enactment of the English Civil War period.
The English Civil War Society
ECWS has two main bodies The Kings Army representing the Royalists and The Roundhead Association representing the Parliamentarians. Each body is made up of a number of Brigades whose Regiments take their names and uniformd from those of the 17th century.
We take part in events all over the the UK from major battles to living history displays, as well as purely social events such as banquets and live firing weekends (yes the guns and cannons are real). We have members of all ages from all over the world.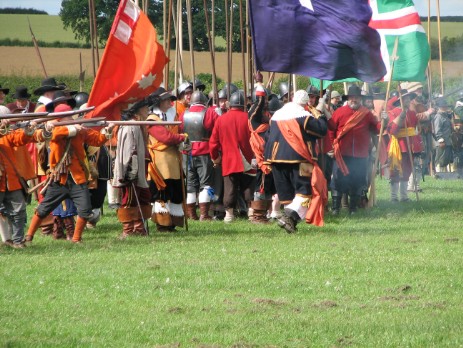 Infantry
The infantry is made up of Pikemen and Musketeers led by Officers and supported by water carriers and first -aiders
Living History
Our Living History portrays everything from the housing through to the skilled crafts of the period.
Artillery
We have cannons of all sizes including the biggest used in re-eanctments in the UK requiring their own specialised transport!
Cavalry
Hungerfords Regiment is currently actively recruiting riders, they supply trained horses and training - you supply experience and enthusiasm.